6 March 2019
Ombudsperson Of Albania Erinda Ballanca Attends The Annual Meeting Of The Global Alliance Of National Human Rights Institutions
---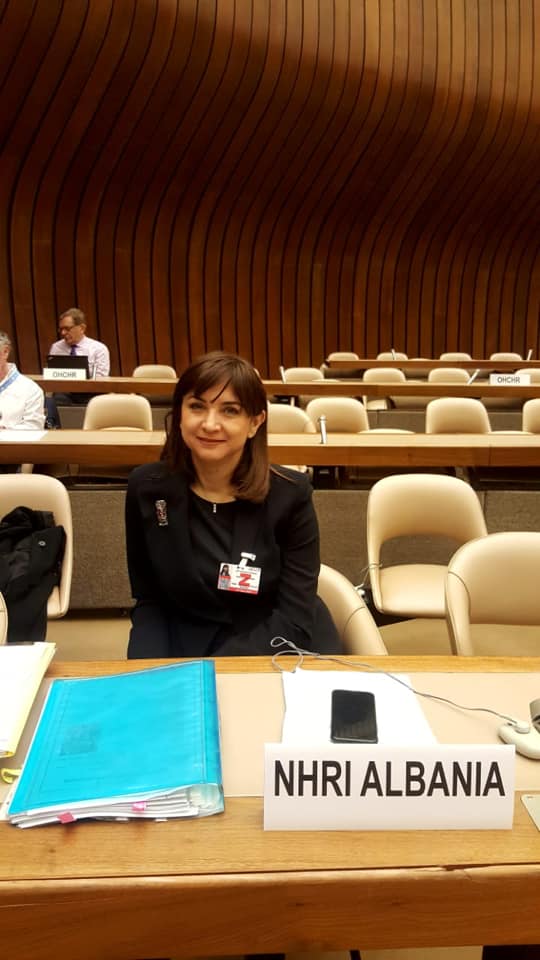 Albania's People's Advocate Erinda Ballanca attended the annual meeting of the Global Alliance of National Human Rights Institutions (GANHRI), which was held in Geneva, Switzerland, between 4-6 March.
More than 200 representatives from human rights institutions operating in different countries of the world participated in this conference.
In the Republic of Albania, the Ombudsperson Institution is the highest national institution for the protection of human rights.
In the framework of the 63'rd Session of the Commission on the Status of Women, GANHRI has prepared a report on the role of the National Human Rights Institutions in the prevention and elimination of all forms of violence against women and girls.
The People's Advocate of Albania, Erinda Ballanca, has addressed in this context issues related to the advancement of women's rights in Albania and the fight for equality that institutions and activists of this cause develop in our country.
After mentioning the advances and obstacles that gender equality has recognized in Albania, the lawyer Ballanca emphasized that:
"Apart from the figures, the education, the breeding of a culture of normality is on my opinion of an outmost importance when we talk women's rights. And I'm not talking here about the culture as a singular, private activity conducted in the solitude of the self-conscience. I'm talking about the culture as a tool of our collective intellect, to eradicate collective distorted, wrong, parallax views of the reality.
In my country, for example, part of this distorted view is the collective conviction that women on a public office, are by default of a different nature than other women. That they are strong while by nature women should be soft. That in order to be "qualified" to run an office they have to renounce of their "womanity" coming closer to the men's advantageous qualities. This de-womanisation of the woman is often passed for her normalization into a club of exclusive membership, which despite its perception as manly rude, rough and heartless, is unjustly considered as the stabilized normal.
I have experienced first hand, directed over myself the moment I accepted the direction of the public institution of the Ombudsperson of Albania the same, exact approach from the society, the media and often, also from colleagues heading public institutions. And this is the reason why I want to stress out the huge, immense importance of working for the creation of a culture of normality, which stops asking the women on public offices to perform as some kind of super-women eager to confirm their non-feminine characteristics.
This is the moment to work for a new culture of calling for the normal human beings, for the normal women to which nobody requires to perform as strong in order to fit a position, and to normal men as well".